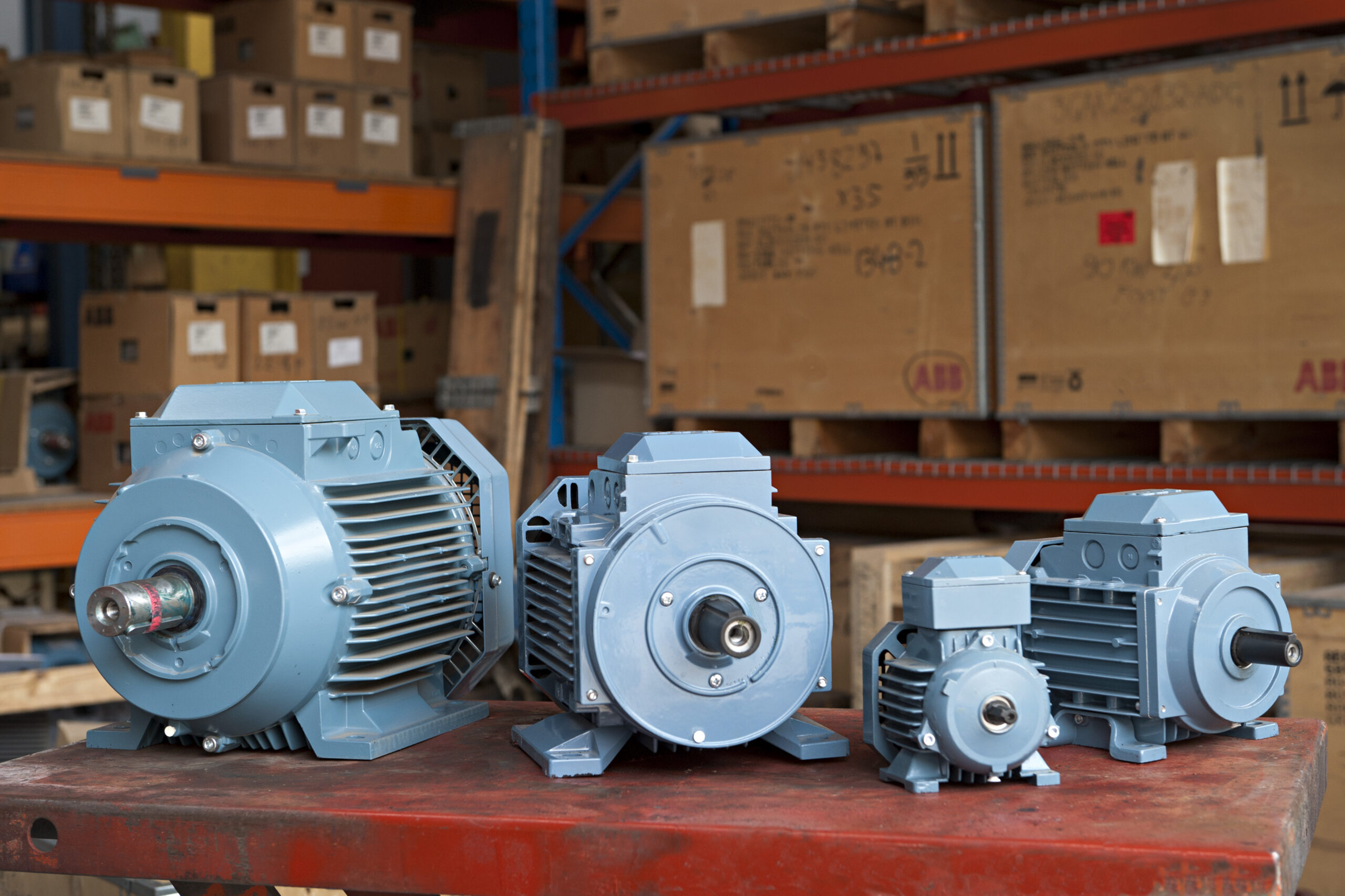 High efficiency AC motors
More than 60% of energy consumed by industry is used to run electric motors. Installing high efficiency electric motors is one of the best ways to secure energy and reduce the costs associated with its maintenance.
We recommend ABB high efficiency motors and are committed to ensuring that your operations run as efficiently and productively as possible. Costly down time caused by overheating, bearing, winding and mechanical failures can be limited by installing reliable and high efficiency products. Partnering with leading manufacturers ensures that we can contribute to the longevity of your equipment, from the supply chain to after sales service and support care.
Our ABB AC high efficiency motors range from standard, totally enclosed fan cooled, aluminium or cast iron motors are suitable for the most demanding industrial operations.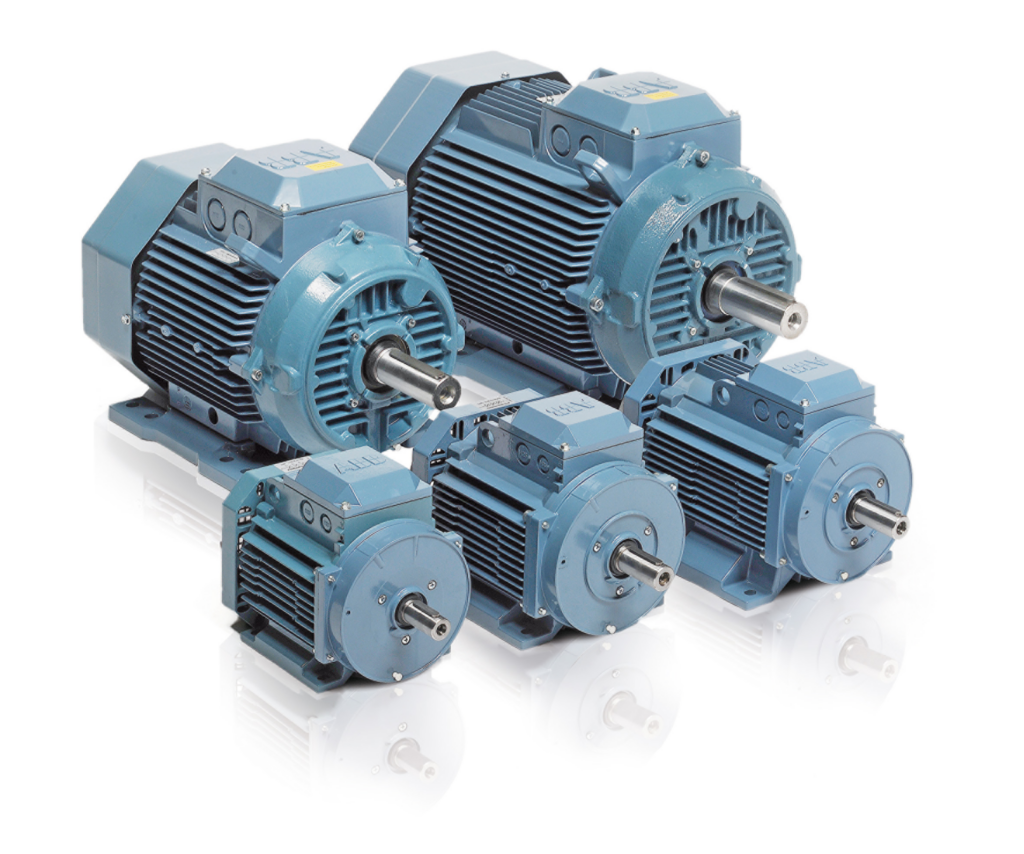 Process Performance AC Motors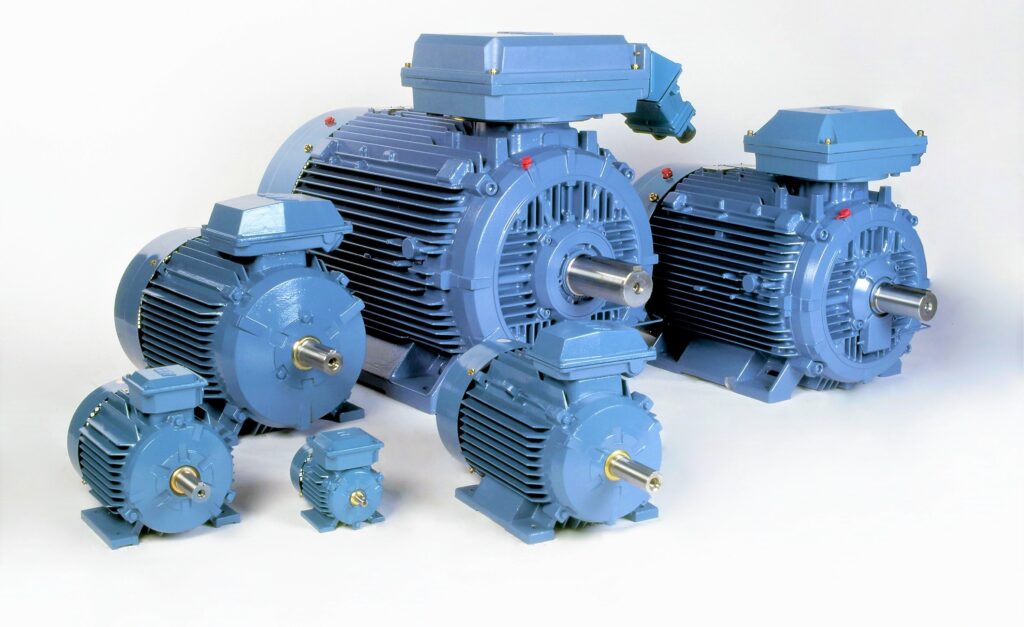 ABB's range of high and low voltage process performance cast iron motors are specifically designed for the most demanding operations and arduous conditions featuring reliability, power, high efficiency and low life cycle cost.
These motors are ideal for a range of applications that include pump, fan and compressor applications, as well as all other heavy duty applications.
High Torque, High Power AC Motors
T-T ELECTRIC's AMP AC Square Motors have been designed to replace DC motors. These motors are physically the same shape, footprint and frame size, specifically designed to suit your application and can replicate the same torque and power as a former DC motor. The AMP series is available in frame sizes 112-355, with power output ranging from 17kW to 1000kW at 1500rpm.
Hazardous Location Motors
Clamp Electrical Industries is equipped to supply to the most demanding industrial operations such as the oil and gas industry, with a range of hazardous location certified electric motors.
Our hazardous certified range of ABB motors are designed to operate in explosive atmospheres and include low and high voltage, flame proof (Ex d certified) motors; safe (Ex e certified) high and low voltage modular motors; and a variety of non-sparking (Ex nA certified) motors.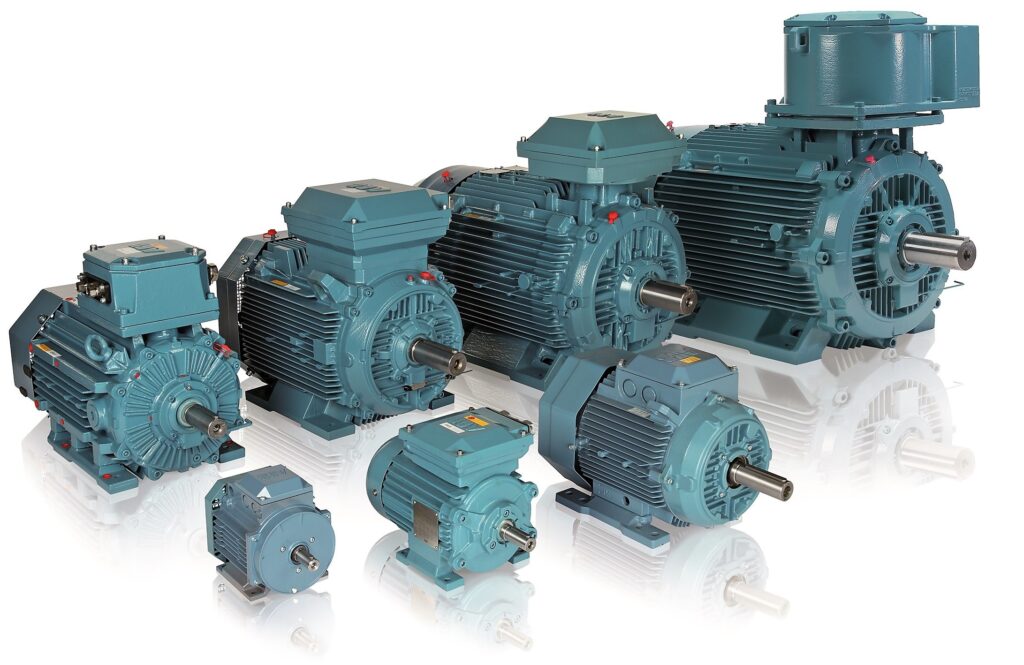 Brake Motors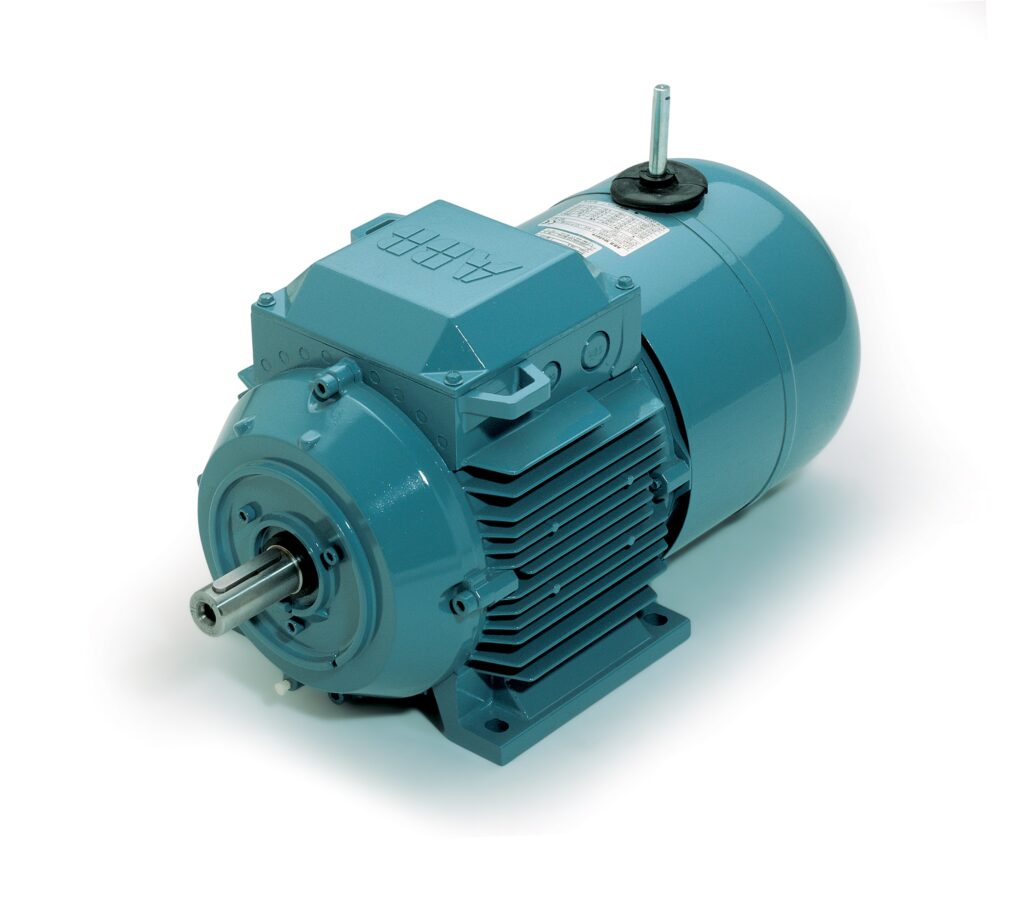 Clamp Electrical Industries supplies and distributes a range of low voltage, general purpose break motors. These motors are ideal for the OEM industry and can be modified to meet most braking duties e.g. for three phase induction motors.
DC Motors (112 Frame and Above)
Clamp Electrical Industries is proud to stock a range of leading DC motors which incorporate innovation not previously achieved in DC motor technology. These DC motors are ideal for applications where sustained, top performance, reliability and quality are priority.
ABB DMI DC motors achieve high output over wide speed ranges, smooth running at low speeds and low moment of inertia, all with minimum maintenance. Clamp Electrical Industries distributes motors frame sizes 112 and above.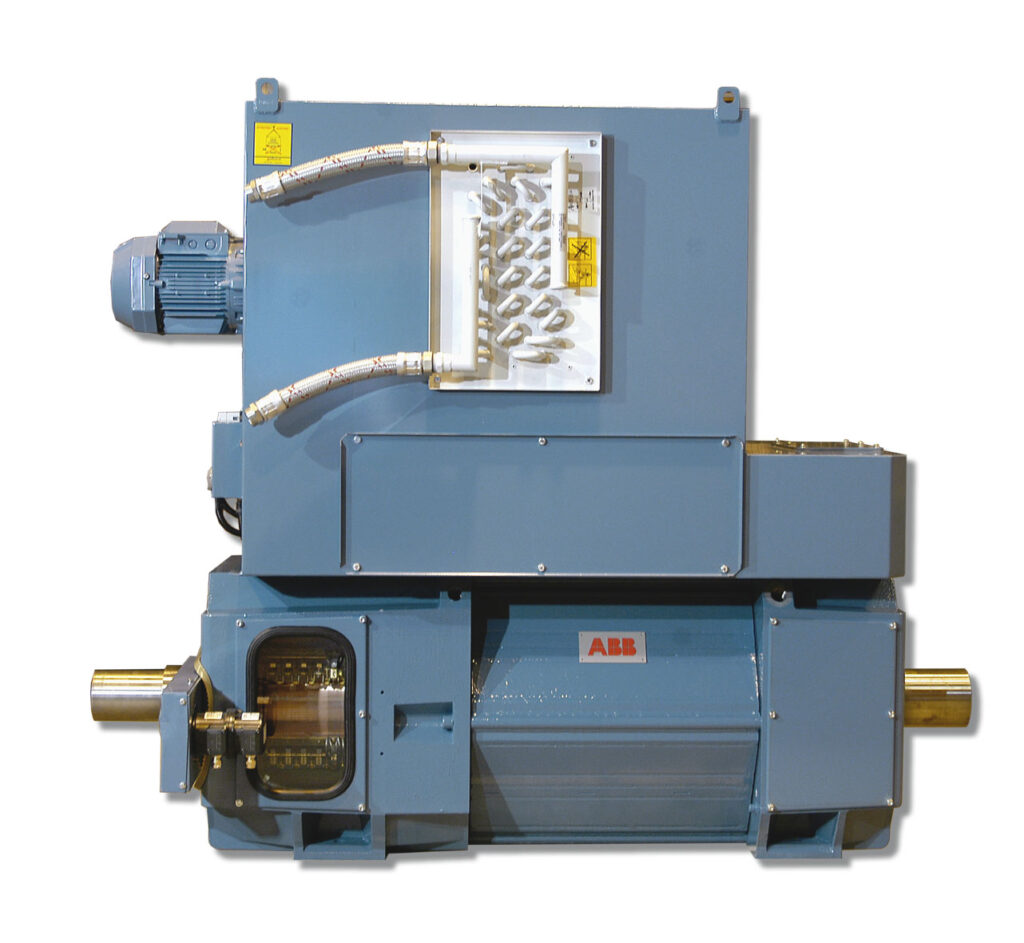 High Voltage Output Generator
Industrial generators are often used to supply backup power to facilities, businesses, or homes during power outages but they can also be used as a primary power source in areas where a local electrical grid is unavailable or difficult to access such as mining and farming operations or even new developments and construction. Clamp Electrical Industries overhauls and rewinds high voltage output generators for industries including the power industry which turns waste into renewable energy. By providing a continual service by repairing and maintaining these industrial generators that operate 24/7, we are able to add another 5/6 years of uninterrupted operation for these incredible machines. As with all electrical rotating apparatus, over time parts wear due to friction and constant use, they then require repair and/or parts need to be replaced. This is why it is imperative that overhauls are completed to the highest standard and top quality original parts are provided and essential to a long and productive lifespan.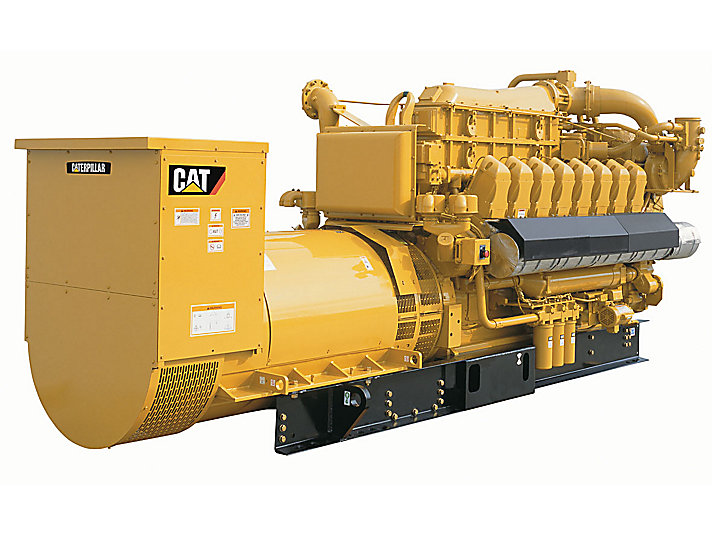 Centrifugal Pumps
Our range of centrifugal pumps includes the Lowara FHE-FHS-FHF electric pump series, the Lowara Open Impeller CO-COM electric pump series and the Goulds BGR series with Centri-pro automatic pump control.
The FHE-FHS-FHF series has been developed for the civil, agricultural and industrial industries, where circulation and transfer of chemical non-aggressive and clean water and liquids, irrigation, water supply and water circulation in air-conditioning systems are in operation. These pumps can be combined with 2 and 4 poles, single and three phase motors.
The CO-COM series is an open impeller centrifugal pump, developed for the civil and industrial industries. This series is ideal for applications such as food processing industry washing equipment and systems, metal parts and surface treatment washing, produce and packaging systems washings, industrial washing machines and commercial dishwashers, and for the transfer and circulation of moderately aggressive viscous liquids. The series can be combined with 2 poles, single and three phase motors.
ITT's BGR Series with Centrio-pro automatic pump control is a jet pump that enables the pump to remain primed if there are gasses in the pumped water. Its pressed stainless steel casing and aluminium body makes this series ideal for domestic applications where handling clean water is operational.
Submersible pumps
Clamp Electrical can supply and distribute a variety of submersible pumps, and recommends the Lowara Gl-GLV series by ITT Industries.
The GI-GLV series is durable, reliable and made for applications that drain excavation and marshy grounds that empty domestic waste water tanks, and circulate sewage and suspended solids. The pump comes with a motor stator already installed, a sand-proof mechanical seal and is fully operational at up to 5 meters immersed at 50ºC liquid. The GI-GLV can be combined with single and three phase motors.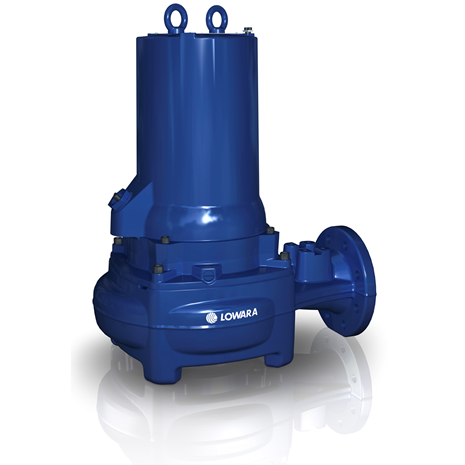 Drives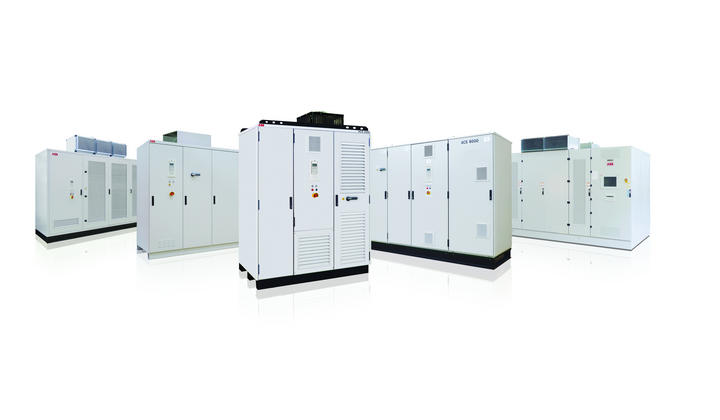 By installing reliable equipment, you can expect to extend the life cycle of your operations and reduce the maintenance and mechanical stress on your systems and operations. Coupling electric motors with high efficiency drives can help you to reduce your energy consumption by 50-90%, depending on the application.
By installing high efficiency drives, you can also expect to extend the life cycle of your operations and reduce the maintenance, as the precision controlled process ensures less mechanical stress on systems.
Control Gear and Contactors
Clamp Electrical supplies and distributes an innovative range of control gears and contactors manufactured by ABB. The range has been developed to simplify control gear and automation systems by implementing a field bus plug system called the "FieldBusPlug".
This device allows for a cost-effective way to connect any field bus using the same common automation systems. The device represents real advances in its performance, handling and assembly capabilities. Unlike traditional control gears, the FBP system protects, switches, controls and records exchanging data. The FBP can be gradually integrated into existing systems and therefore requires less planning and allocated project management time.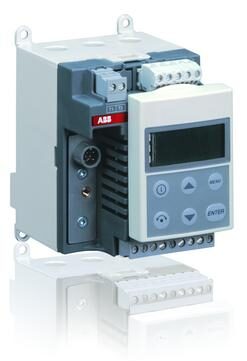 Soft Starters
Soft starters are known for delivering smooth starting and stopping functionalities. ABB's range of soft starters have been designed to limit torque and current where needed, process no current and torque peaks resulting in less mechanical wear, less maintenance and no production breaks.
Clamp Electrical Industries supplies and distributes a wide range of ABB soft starters that cover all motor applications from 3A to 1810A. ABB soft starter model types feature a number of beneficial characteristics.
The ABB PSE is an efficient soft starter that has been designed with just enough features to meet most industrial applications requirements. Compact, reliable and cost efficient, the PSE starter is easy to install, without the need for an external by-pass system, and can operate in the most arduous conditions and bad network connections.
Suitable for almost any application, the PSS has two connection possibilities. It can be connected in-line with the motor that covers 18A-250A, or inside the motor delta that covers up to 515A. The PSS is easy to install and easy to maintain.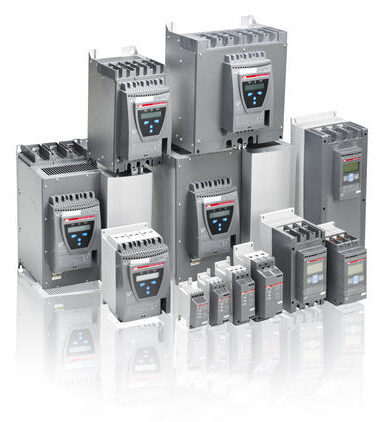 The advanced range of PST and PST (B) soft starters covers currents from 30A to 1062A via inline connection with the motor and 1839A via inside connection to the motor delta. This series features display options such with 14 language options, LCD display with similar menu options as that of your mobile phone, torque control, analogue output, programmable signal relays, features an integrated by-pass contactor and it comes with advanced integrated protection and a flexible bus communication system.
Air-conditioning and refrigeration Motors
ODP motors, named for their method of cooling, have two vents located at opposite ends of the motor. Inside, a fan pulls in ambient outside air through the motor and pushes it out the adjacent end. Because these openings are exposed to the surrounding elements, the vents are placed at an angle in order to prevent dripping water from directly entering the motor, hence the name "drip-proof." These types of motors are ideal for air-conditioning.
Select from our Royce Cross or WEG drip proof range of air conditioner motors below.